Please refer to my skin profile
here
!
Etude House

is an inexpensive, but good quality cosmetic brand in Korea. I came across this BB cream when searching for a cheap, basic, easy to apply Korean BB cream with a natural finish. I believe that this BB cream was repackaged recently, adding the "All Day Strong" part. It comes in three shades (with notes on what I've learned from my research online):

#1 Sheer Silky Skin: Lightest shade. Suits oily skin, with a mattifying finish.
#2 Sheer Glowing Skin: Light to medium shade. Suits drier skin, with a dewy finish.
#3 Sheer Flawless Skin: Darkest shade. Highest coverage.
I bought 6 sample sachets on eBay of #2 for $3.50. Though I do have combination skin, my cheeks and forehead can get dry in the wintertime. I also prefer a dewy finish which can be toned down with powder, as opposed to an unnatural matte face which needs extra contouring and blush: therefore I chose #2.
I used it straight on my face after getting up in the morning, just to see how it would cope with dryness. I didn't wash my face first, no moisturiser, base, nothing - all that was on my skin was night cream I had applied the night before! I figured that it was the ultimate test...and here's the result: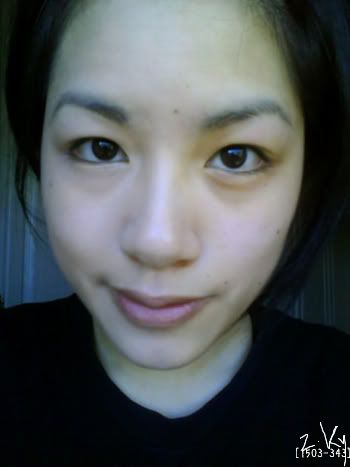 Left side: with BB cream. Definitely brighter and more refreshed-looking, with evened tone. Shadows and redness on cheeks gone. Right side: eeeek (bare)! Minimal Photoshop (mainly lighting and colour fixes, none on the face).
A swatch:
I was afraid it would be too dark at first, but it seems to lighten as it's blended out.
Points:
- No weird sheen, thick texture or extra stickiness from the SPF 30 / PA++ - doesn't get pushed around.
- Slight pearlescent effect, but very natural and only noticeable close up. No shimmer or particles.
- VERY easy to apply and blend, no need to buff in - great beginner BB cream.
- I disagree with recommendation for dry skin - if skin is drier than average, this may not give as nice an effect - doesn't cover or moisturise dry patches too effectively. "For Normal Skin" would be more accurate.
- Tone is neutral but tends more to pinkness than yellow shades - buy samples/use testers before purchasing!
- Covers dark shadows around eyes surprisingly well - may need extra layers, but is very layerable and doesn't cake.
- The finish is like mineral make-up: comes off when touched as a powdery/silky residue, but doesn't rub off too easily - could set with powder to be safe.
- Very easy to remove: a few gentle swipes of a Simple Cleansing Facial Wipe and it's all gone!
- Coverage: extremely natural - medium coverage with a very thin layer: covers redness, dark shadows, and visible pores well.
- I took it off straightaway, so I can't say anything about the staying power. But as it's so natural, even if it rubs off it won't look obvious. It feels very light (actually, I didn't feel anything...) and natural, so it shouldn't be a chore to wear. In fact, I think it would do fine without blush, and definitely without contouring. I would be interested to test it in hot or humid weather, as it obviously performs well in dry, cool weather.
- Patting it on is best, but rubbing doesn't produce any unsightly "eraser dust" or promote flaking.


All gone!
Remember that I used this on a crappy (i.e. non-existent) base, so I expect that the finish and effect would be even better over serum, or any kind of prep! Note that BB creams are to be used in place of moisturiser, as many claim to have SPF, anti-ageing, whitening, and moisturising effects.
I also bought a full-size
Mentholatum Sunplay SKIN AQUA Silky BB Cream SPF35 PA++
(recommended in a video by
Ava Yu Kiu
), so I will test that out before purchasing Etude House Precious Mineral BB Cream in its full size - but I have to say that there isn't a lot stopping me from buying it, right now!
+Good, if:
You're looking for natural light to medium coverage, more than a tinted moisturiser but less than traditional foundation, without any gimmicks, stickiness, or weird sheen. This would be a great first BB cream.
-Bad, if:
You need a lot of coverage or staying power, and have very dry skin.
The name says it all: if you've used mineral make-up before, you know what to expect - the base consists of powdery minerals rather than oil or water. Overall, I would repurchase this!