Basics (plain t-shirts, etc.)
M&S: Overpriced and boring; €8 for plain v-neck t-shirts.
Penneys: The cheapest at ~€3.50, but they don't last long and have a strange choice - no v-necks but plenty of round-neck and long-sleeve t-shirts.
New Look: Nice designs, but not much basics.
Forever 21: Yes! Nice loose v-neck t-shirt for €4.75, looks hardier than Penneys quality.
Dr. Jart at Boots
Korean BB cream brand Dr. Jart spotted in Jervis Centre Boots for €28 - €30! There are four variants in the range, not exactly labelled Black and Silver Label as in Asia. But is it better value to order from a Hong Kong online store?? It's 168 - 188HKD from AdamBeauty.
Bubble tea
New Vietnamese food and bubble tea place has opened next to my hair salon of choice, IS Organic. I think the name is Aoboba - who cares when they have refreshing green or black tea with fruity bursting boba! One drink with no extras is €3.50.
Strawberry refresh green tea with strawberry boba.
The Lipstain craze
I trekked into every Boots looking for the Revlon's Just Bitten Kissable Balmstain in Honey, but it was sold out everywhere...opted for Maybelline's Colour Sensational Lipstain instead in Tender Rose, and it turned out to be perfect! It's very sheer and a fun, buildable pink - lasting power isn't bad, either.
Natural History Museum
I'm leaving for Dallas, TX in four days - can't wait! Here's a photospam to make up for my absence...
Sheer "galaxy" top and burgundy shorts from Penneys.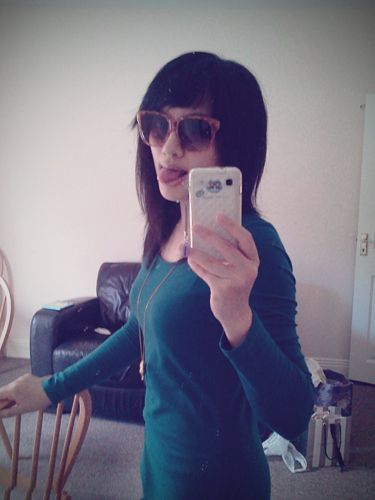 Sunglasses from my old landlady, turquoise top from H&M.
My favourite Android photo apps lately have been LINECamera, Camera360, and PhotoWonder - all free :)