top: from my sister


leggings:

UNIQLO


scarf:

H&M boys

--

IS THIS A HAUL I SEE?!

Yes. I needed a dependable pencil liner for one thing, and I thought I deserved a shopping trip before class starts again (well. It's already started).




Boyfriend-approved duvet cover set - hopefully you can get the pattern from the pic. It was on sale!




Cream jumper from

Penneys

- my obsession with nude-coloured items has diminished, but this looks so cuddly and warm that I couldn't resist.






Urban Decay 24/7 Glide-On Eye Pencil in Zero

(black) - got a reward card too! 10% off everything in Debenham's right now. MINI-REVIEW: Not as black as I'd hoped, but it does glide. Put it on my waterline and hand just to see how long it'll last - will report back later! Usually I pat black shadow over liner on my waterline which makes it last forever, but it's not really good to do with contact lenses.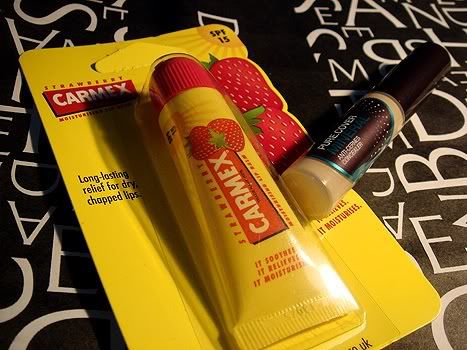 Carmex, strawberry-flavoured

- I've always been fascinated by the strong smell of Carmex, but I'm happy enough with my Chapstick. However, strawberry... MINI-REVIEW: Slightly glossier than Chapstick, with the signature tingly feeling. Not sure about staying power yet, but I'll report back! Feels nice, no stickiness or wetness at all.


Maybelline New York Pure Cover Mineral Concealer in Natural

- this was recommended by StyleSuzi, and I picked it up as I've never tried mineral make-up before and my L'Oreal True Match is running out (and expiring). MINI-REVIEW: Very blendable, buildable too. However the coverage doesn't seem to be as good as L'Oreal, though it is slightly more reflective. It's quite lightweight, think I may have picked a too-light shade. Works moderately well, but not a HG product; it's also NOT waterproof. Thinking of trying concealer by Origins next.



--



THINGS I HAD MY EYE ON:


-

The Sanctuary Warming Charcoal Detox Mask

: I've been on the lookout for a clarifying mask, and clay and charcoal seem like good choices.
-

Botanics eye cream with almond oil

: don't remember the full name, but lately I've felt that my Pond's Flawless White eye cream just doesn't cut it.
-

NIP + FAB Dark Circle Fix

: I'm dying to try this out as I have terrible dark circles. Sadly the Boots I was in didn't stock it.

I was being frugal, and I never buy anything without first consulting Makeupalley and my favourite beauty bloggers (feature coming soon?).


LOVES OF THE MOMENT:


- electric blue.
- glitter nail colours (move over, crackle glaze fad!).
- Classique X by Jean Paul Gaultier - my teeny sample bottle is running out...help!