I've been playing this game before I was ten, and it's still fun for some reason. Despite the fact that it's for the Game Boy Color and looks like this: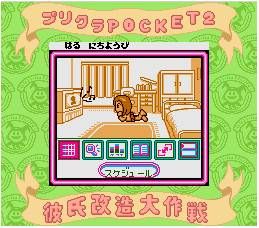 It's essentially a very low-level dating sim/Tokimemo-type game, where there are a few minigames and choices of answers to give. Thankfully my Japanese has improved (also in-game lack of kanji appreciated) and I no longer guess everything and inevitably lose. Of course I have to keep a dictionary open, my Japanese isn't
that
amazing...
The class test minigame during school is actually not that simple. I got some questions like: what's another name for the African violet? What type of dogs do the police force use? What does
kitsune no yomeiri
mean?And something about an animal in Indonesia, Taiwan and Japan which I didn't bother translating.
As there is absolutely no info on GameFAQs or even the rest of the web,
would anyone be interested in a full translation of the game?
(I suppose the GameFAQs community might, and it would be great to give back.) Although I may struggle with 100% correct grammar, I got over 80% in the test minigame I just talked about! Go NANA OOSAKI (the name I've chosen for my character)!